Check out this delicious 5 Minute Microwave Butterscotch Self Saucing Pudding… the perfect quick and easy late night dessert!
This post is brought to you by Breville.
Ok so you know how much I love my desserts right? And I'm clearly a fan of desserts that can be whipped up in no time at all (and by that, I actually mean a dessert that I can make whenever a sugar craving hits… ahem 9pm on a Wednesday night – I'm looking at you!!). And of course you know my total and utter affection for a microwave mug cake. Seriously, the day I made my first mug cake, my life changed. Dessert in an instant. Talk about dangerous!! Anyway, this 5 minute microwave butterscotch self saucing pudding is just as delicious as my favourite mug cake… if not better. Holy moly that's a big call, right!?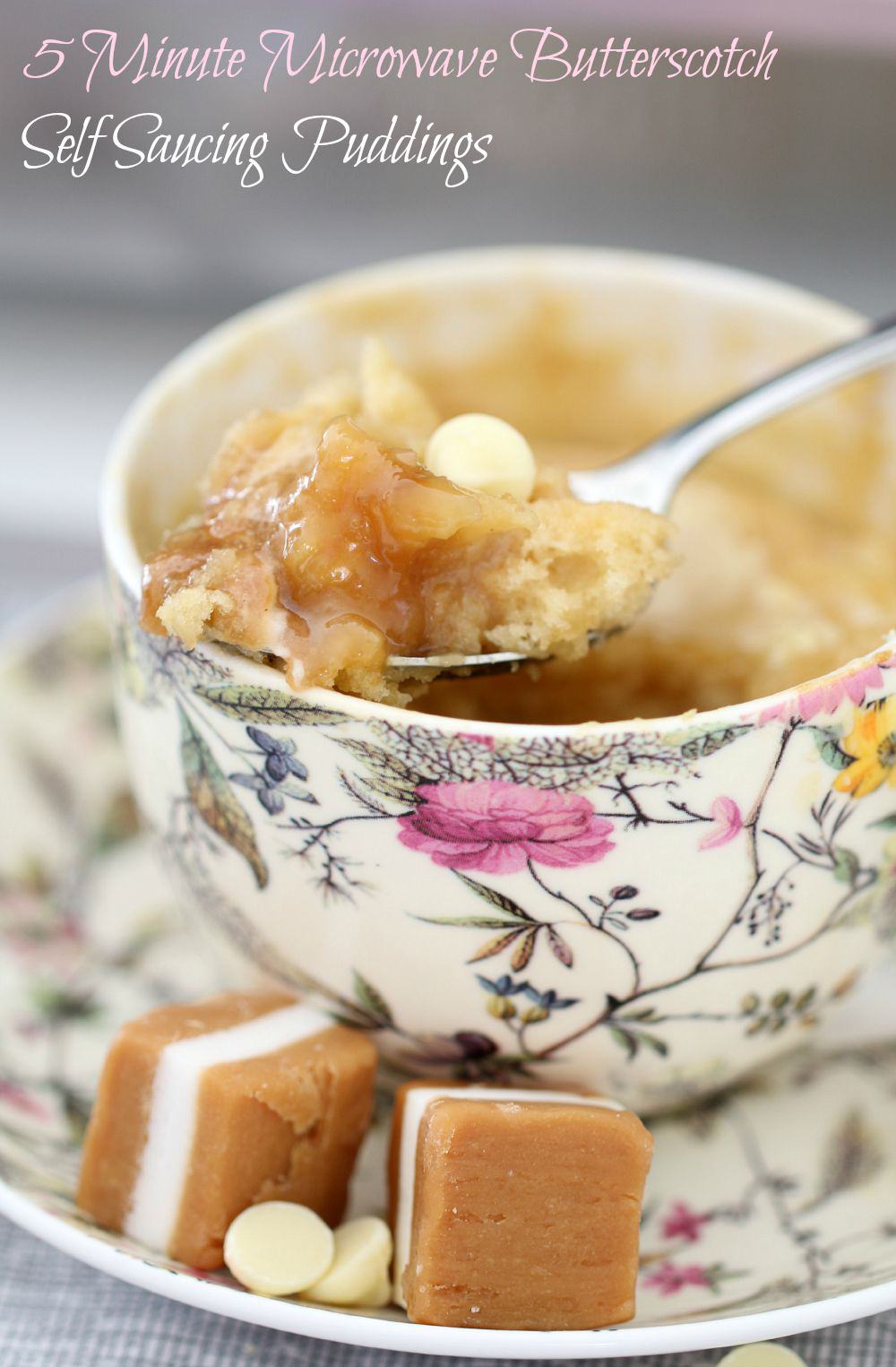 I like to make my little microwave butterscotch self saucing pudding in an individual ramekin or bowl. There's just something so cute about an individual dessert. Plus there's no sharing required, which is just fabulous! OMG my primary teacher brain just scolded me big time for writing that. Ok, sharing is great… but totally not required when it comes to dessert. Agreed!?
To make these little 5 minute microwave butterscotch self saucing puddings, you just mix all of the ingredients together and divide them between your ramekins (or teacups if you're being ridiculously cute… if so, I'm totally with you!!). Then you sprinkle a bit of brown sugar and cornflour over the top and carefully pour over a mixture of boiling water and golden syrup. Pop them into the microwave and wait for the deliciousness to happen. Actually like any desserts in the microwave, you do need to watch these puddings like a hawk, just in case they decide to overflow a little!!! I'd definitely recommend using larger ramekins and having the puddings sit lower rather than trying to fill small ramekins with too much mixture (trust me… you'll end up with an ooey, gooey mess!). Go for larger ramekins or cups, only fill them halfway to the top, and you'll be fine!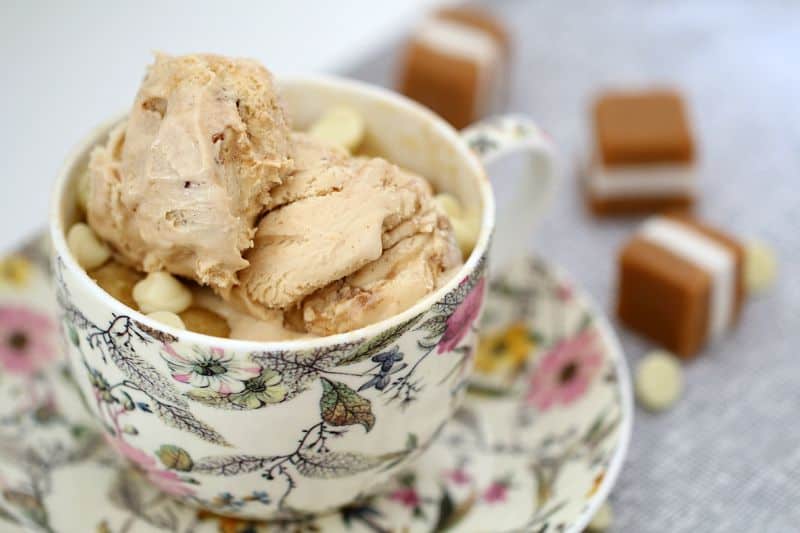 When these babies come out of the microwave you will have the most deliciously spongy top AND the best butterscotch sauce sitting on the bottom. Talk about amazing. All you need to do is add a big scoop of ice-cream, grab a spoon and away you go.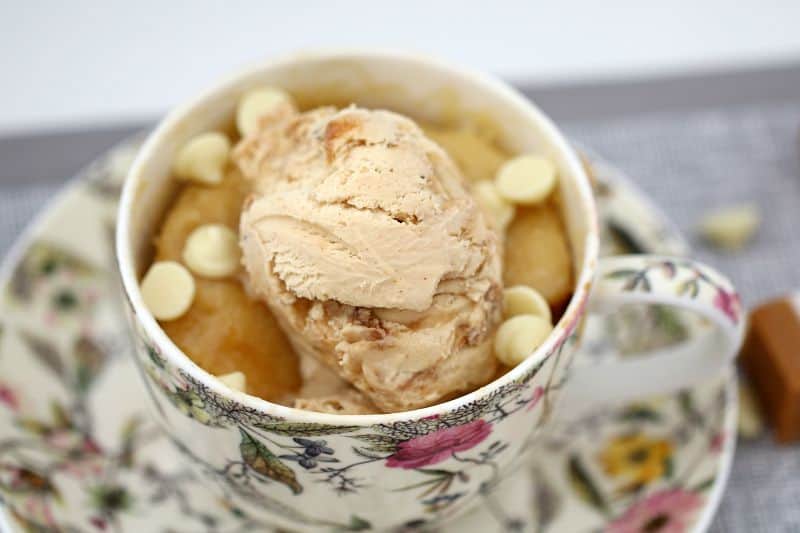 Ok confession time… I totally added white chocolate chips AND a jersey caramel to each of my microwave butterscotch self saucing puddings. I know, I know… I'm really naughty. And yep, it was completely over the top. But geez it was amazing (especially given that I ate it at 3pm on a Tuesday afternoon). Eeek that's even naughtier!!! You seriously don't need to add the chocolate chips or the jersey caramels, but I've included them in the recipe just in case you're as cheeky as me (in which case I love you and we're kindred souls).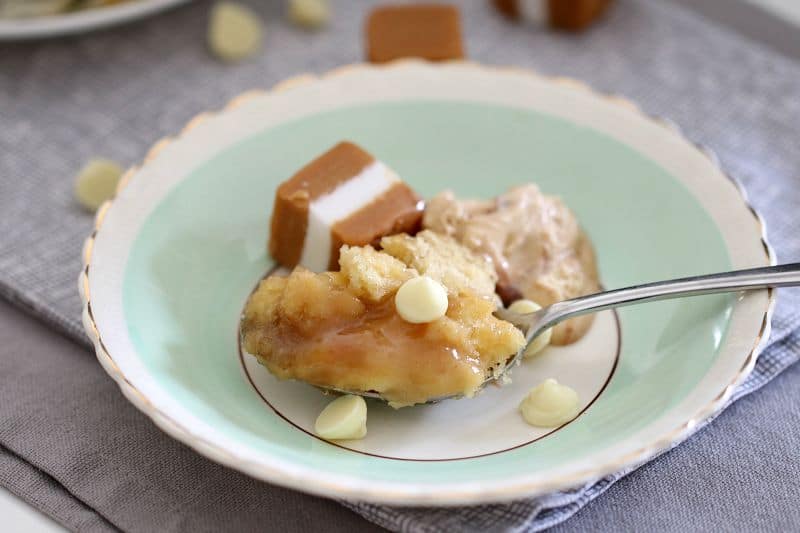 So now that I've told you about these delicious 5 minute microwave butterscotch self saucing puddings, I have an even more awesome thing to tell you. Thanks to Breville, I have a brand new Quick Touch Crisp microwave (RRP $449.95) to give away (and yep, I made these puds in the new microwave!!). How brilliant is that! I got sent one to have a play with and by golly I've fallen in love. I bought our old microwave when I moved out of home. I always thought it was pretty good (even though it's a bit old now!), but when this new baby turned up, I realised just how crazy huge and heavy ours was. You should see the space I have on my kitchen bench now!!!
Anyway, I've been playing with the microwave for a few weeks now and I must say it is very cool. In all honesty, my previous microwaving experience had involved defrosting meat, reheating leftovers and making mug cakes. Hehehe yep in the past, microwaving has never been a particular specialty of mine. This thing however, is insane. It does heaps of stuff – but my 3 favourite things are: the 'melt chocolate' button, the 'soften butter' button AND it's 'beverages' button (because I ALWAYS forget that I've made a cup of tea and have to reheat it). It also has a setting that makes a caramel sauce – how ridiculously cool is that (and totally and utterly dangerous for a late night sugar junkie like me!!), it can toast nuts, has different settings for fresh, frozen and roasted vegetables AND it can grill. Yep, you can actually make a crispy grilled cheese sandwich in this thing!!!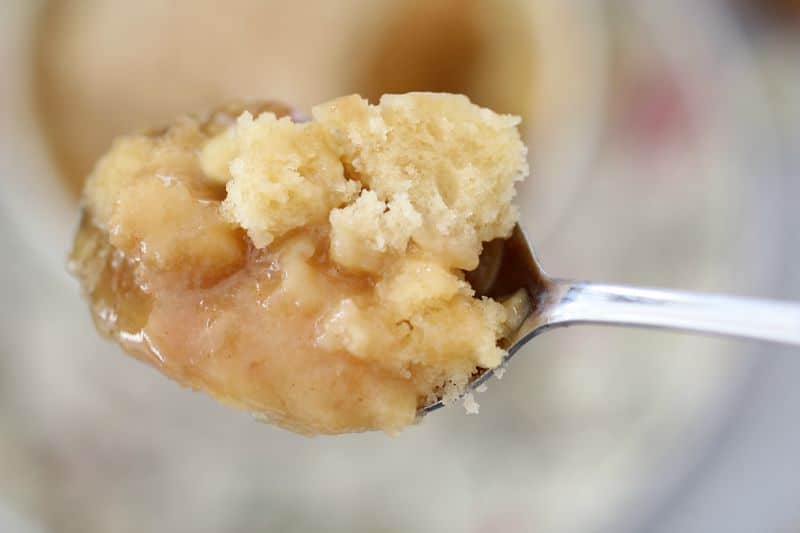 Mind you, I've been excitedly telling Dave all of these things and yet he is more impressed with the fact that the integrated grill and crisper pan browns and crisps pizza (seriously, who did I marry!?). Although, I take that back, because he did make me yummy baked potatoes in it the other night – so I'll forgive him… just this once!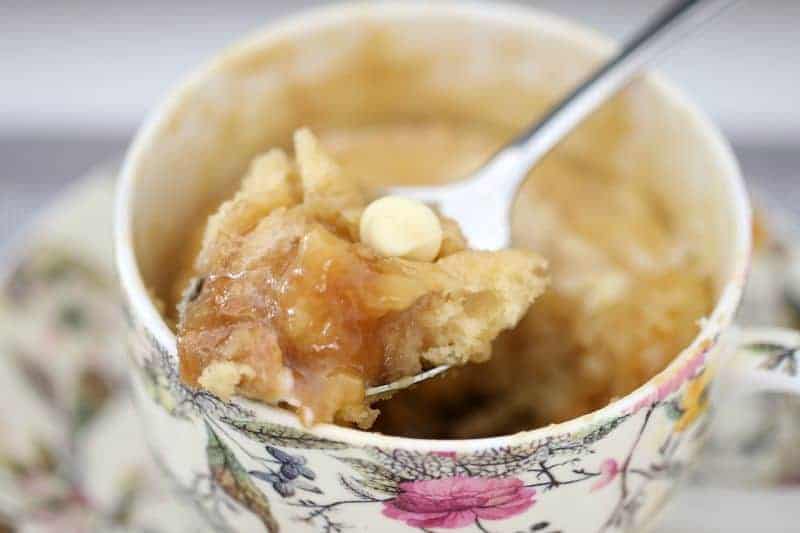 But the BEST, BEST thing is that you have a chance to win one of these fab little machines all for yourself. That's right… crispy toasted sangas, easy caramel sauce and oozy melted chocolate coming at you!! For your chance to win, simply enter the competition below (open only to Australian residents). Oh and if you're the lucky winner, make sure you check out Heston Blumenthal's yummy recipes designed specifically for this microwave – you won't believe the things you can make!!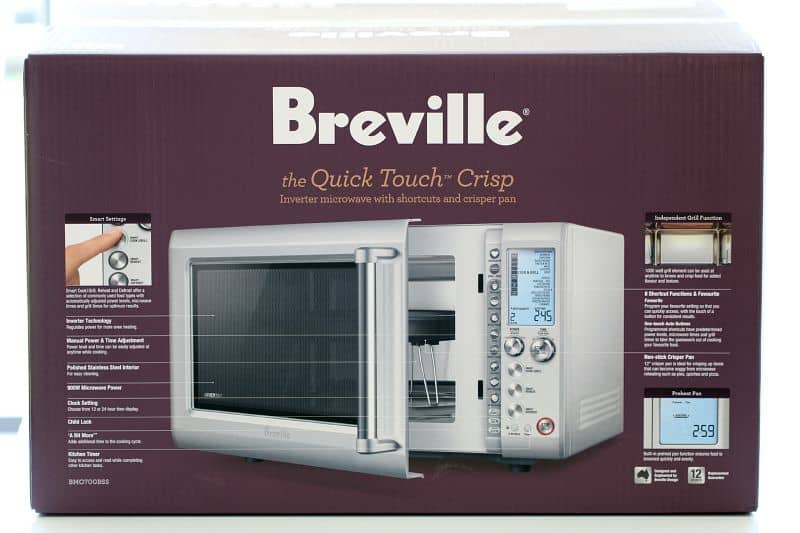 Yay! Who doesn't love a fab little giveaway!!! xxx
Win a Breville Quick Touch Crisp Microwave (RRP $449.95)

Thanks to Nuffnang who co-ordinated this post.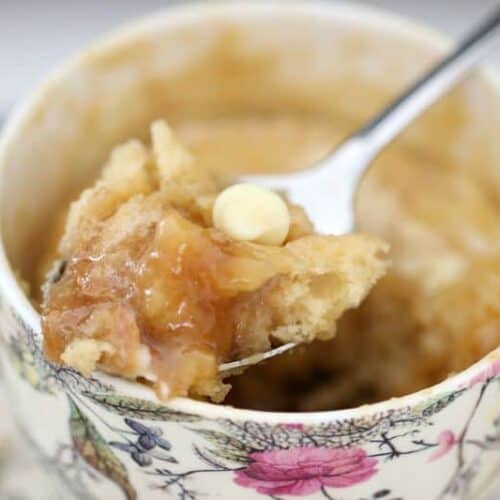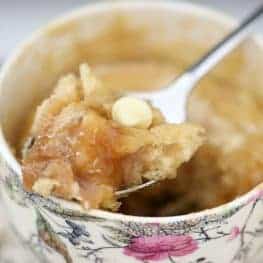 5 Minute Microwave Butterscotch Self Saucing Pudding
Check out this delicious 5 Minute Microwave Butterscotch Self Saucing Pudding... the perfect quick and easy late night dessert!
Print
Pin
Rate
Ingredients
100

g

butter

melted

1

egg

1/2

cup

milk

1

tsp

vanilla extract

2

tbs

golden syrup

1/4

cup

brown sugar

1 1/4

cups

self-raising flour

sifted

1/2

cup

white chocolate chips

optional

6

jersey caramels

optional
For the sauce
1 1/2

cups

boiling water

1

tbs

cornflour

2

tbs

golden syrup

1/2

cup

brown sugar
Instructions
Place butter into a microwavable safe bowl and melt for 40 seconds on medium power (50%). Stir until melted - you may need to pop it back in for a bit longer (or if you're using the Quick Touch Crispy Microwave you can simply press the 'A Bit More Button'.

Add the egg, milk, vanilla extract and golden syrup to the melted butter and whisk well to combine.

Add the brown sugar and self-raising flour and stir gently until combined.

Grease 6 individual medium sized ramekins with butter (you can also use cups or even small bowls) - don't use ramekins that are too small though as your mixture will overflow).

Divide the mixture evenly between the 6 ramekins (do not fill more than halfway). If you have extra mixture, make a few extra puddings (but don't be tempted to overfill the ramekins as they will overflow when heated).

Sprinkle the white chocolate chips over the top and press the jersey caramel into the middle (these are both optional... but very yum!).

Place the brown sugar and cornflour into a small bowl and mix to combine.

Add the boiling water and the golden syrup and stir.

Very gently divide the sauce between the 6 ramekins by pouring over the back of a spoon (do not fill more than 3/4 of the way to the top).

Place the ramekins into the microwave on top of a microwave safe plate (to catch any spills) - I like to place 3 at a time into the microwave for more even cooking.

Cook the butterscotch puddings on 50% power for approximately 2 minutes or until the top of your pudding is firm to the touch. I like to check them every 30 seconds.

*Please note that the cooking time for these puddings will vary a lot depending on your microwave and the size of your ramekins. Continue to cook in 30 second bursts on 50% power until the tops are firm.

*It's important not to overfill these puddings... and make sure you keep an eye on them while they're cooking so that they don't overflow! It's much better to use larger ramekins and have the mixture sit lower than try to overfill small ones (trust me... it won't work!).

Remove from the microwave, add a scoop of ice-cream to the top and serve. All of the delicious butterscotch sauce will be sitting on the bottom of the ramekin, while the top will be a lovely light cake texture.
Nutrition
Calories:
514
kcal
|
Carbohydrates:
76
g
|
Protein:
6
g
|
Fat:
21
g
|
Saturated Fat:
12
g
|
Cholesterol:
69
mg
|
Sodium:
188
mg
|
Potassium:
164
mg
|
Fiber:
1
g
|
Sugar:
55
g
|
Vitamin A:
490
IU
|
Calcium:
103
mg
|
Iron:
0.6
mg