Have dinner on the table in 20 minutes with this quick and easy 4 Ingredient Chorizo & Potato Spanish Tortilla. Delicious and family-friendly!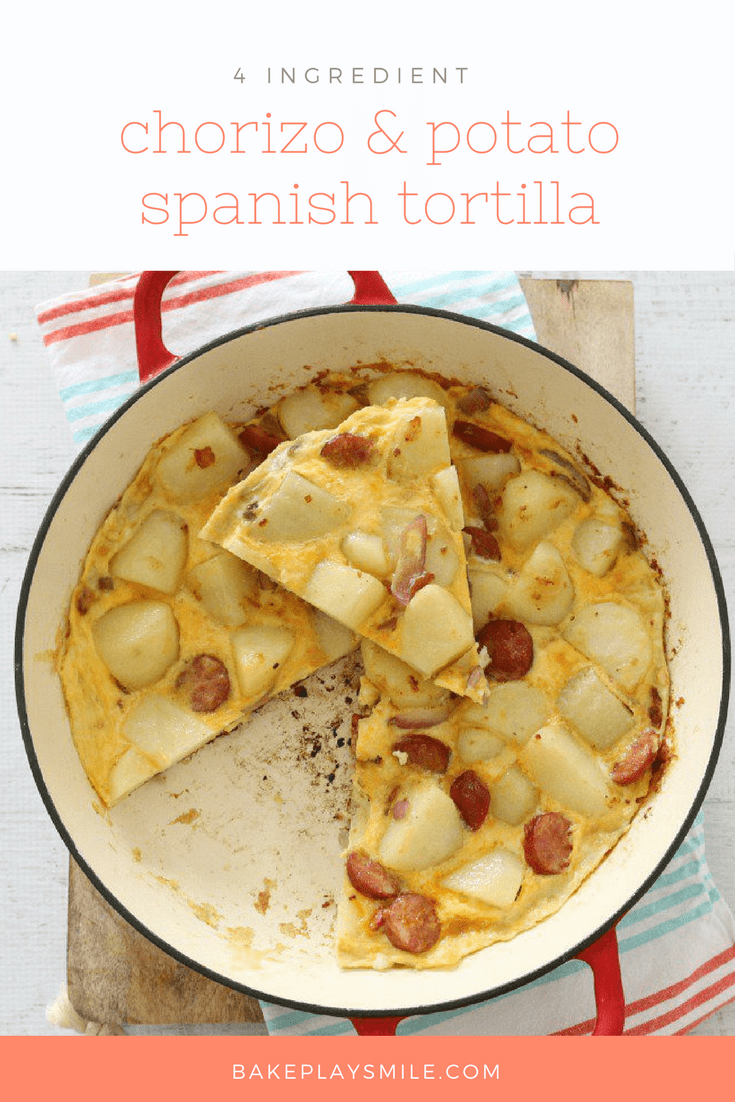 You know how I love a quick and easy dinner right? Well this is up there as one of my favourites. Yep, this 4 Ingredient Chorizo & Potato Spanish Tortilla ticks all of the right boxes. Quick – check! Easy – check! Yummy – check! Foolproof – check! Oh and because you only need 4 ingredients, there's much less chance you'll need to make an extra trip to the supermarket.
I ate my very first Spanish tortilla (which is basically an omelet made with potatoes) in a very remote little town in Spain a few years ago. It was at one of those run-down dodgy restaurants where you're not too sure if you're going to end up very sick a few hours later! Turns out I didn't get sick. In fact, it was quite the opposite! I ate one of the best meals ever… and my eyes were opened to the simple deliciousness that is a Spanish tortilla.
Do you want to hear a little story? Whenever I make this recipe, it always reminds me of a guided reading book that I would use at school with my Grade 2s. It was called Tortilla Espanola and was all about a little boy who made a tortilla. It's funny how those little things stick with you!
Anyway, this recipe is perfect for when you're after an easy dinner that will be on the table in no time at all (and without any fuss!). Traditionally you flip a Spanish tortilla over to cook it on the other side, but unless you're super clever (which I am not!), it's much better to cook your tortilla in a pan and then pop it under a grill to finish it off. So much easier! I've tried flipping it before and trust me, it was not good. It ended up resembling more of a scrambled potato mess than anything. Hmmm… not cool!
Anyway, Spain was certainly a country that stole my heart. If I had the chance, I'd go back in a flash! And really, any country that is famous for tortillas, tapas, sangria and churros, is more than ok by me. Oh and flamenco dancing – how could I possibly forget that the Spanish are famous for that too!
I hope you love this chorizo & potato Spanish tortilla as much as we do… and feel free to follow it up with some chocolate dipped churros!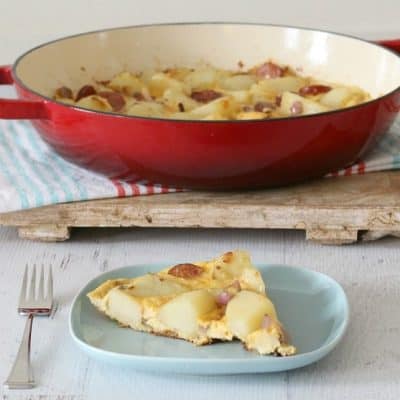 4 Ingredient Chorizo & Potato Spanish Tortilla
A deliciously simple Spanish tortilla made with potatoes, chorizo, onion and eggs.
Ingredients
4

medium potatoes

peeled and chopped into 1 inch cubes

1

onion

thinly sliced

2

chorizo sausages

thinly sliced

6

eggs

lightly beaten
Instructions
Heat 2 tbs olive oil in a medium sized frying pan.

Add the cubed potatoes and cook over medium heat for 8-10 minutes, stirring regularly.

Add the onion and cook for a further 2 minutes, stirring occasionally.

Add the sliced chorizo and cook for a further 3 minutes, stirring occasionally.

Pour in the beaten eggs.

Run a rubber spatula around the sides of the tortilla occasionally to loosen it from the sides.

After 5 minutes, place the frying pan under a grill and cook for a further 3-4 minutes or until the egg has completely set.