It's always so overwhelming when you decide to set up a new social media account for your blog, business or website. Luckily, when it comes to Pinterest, it's quick and easy to get up and running. Here's the top 10 things you need to do when getting started on Pinterest.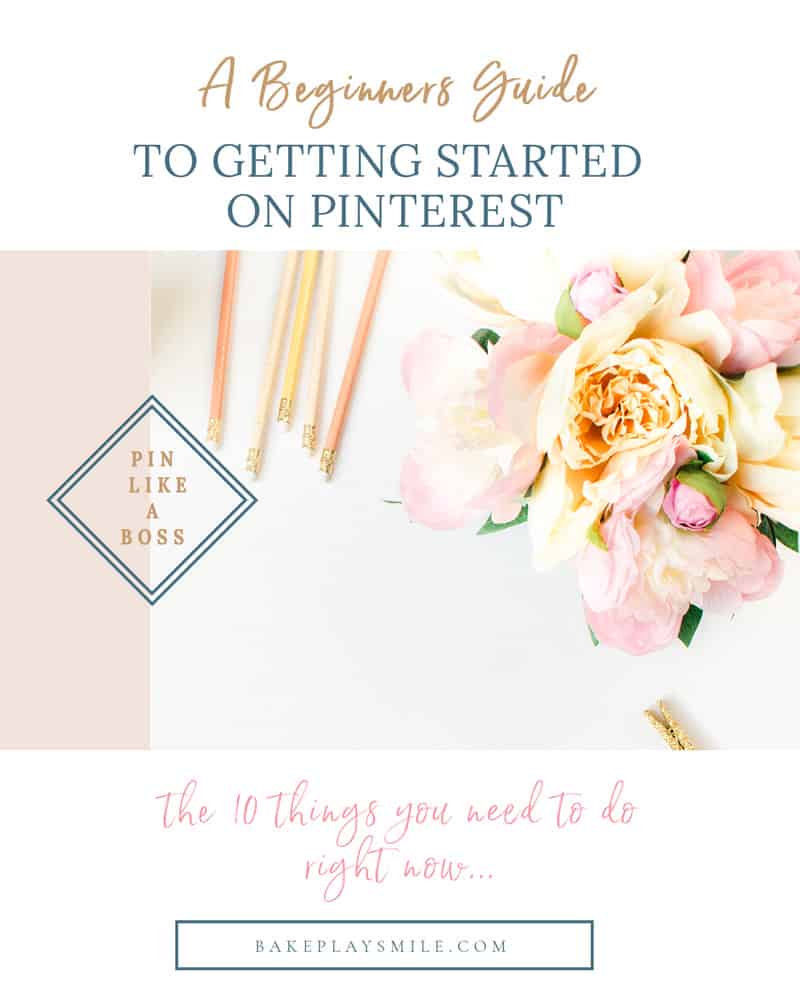 Here's the top 10 things you need to do when getting started on Pinterest…
1. Get a Pinterest Business Account
Once you've signed up for Pinterest make sure that you apply for a business account. This will give you access to your Pinterest analytics, will allow you to apply for rich pins, as well as a few other cool little bits and pieces! For a simple, 2 step guide to applying for a business account, check out this post. 
2. Add a 'Pin It' button to your site
You want to make it as easy as possible for people to pin the images from your website to Pinterest. You can either build your own Pin It button or you can install a plugin (such as Shareaholic, Simple Social Icons or Simple Share Buttons). Either way, the idea is that as soon as someone hits your website, they can quickly and easily pin your images.
3. Follow quality pinners
Right from the start you want to make sure that you follow quality pinners. Remember that whatever the people you follow pin from their accounts will show up in your Pinterest feed. So, if you follow relevant pinners your feed will be full of useful content… but if you just follow anyone and everyone, your feed will be full of… well, junk! Follow pinners that you know will pin content that you will want to repin to your own boards.
4. Set up your boards
Having clear and well defined boards on Pinterest makes a huge difference to your Pinterest account. Choose board names that explicitly state what that board is about, choose the correct category and write a nice little description of your board. Having well defined boards helps Pinterest to know what sort of content you have pinned to your account. For example, if you have a 'Chocolate Recipes' board, Pinterest will display your board when people search for those terms. However, if your chocolate recipes board is called 'Yum', it won't show up in those relevant searches. Be clear and be explicit. Now isn't the time to be cutesy (as fun as it is!!).
5. Apply for 'Rich Pins'
Once you have your Pinterest account up and running, it's a great idea to apply for rich pins. Rich pins show far more detail and information than a regular pin does. There are currently 6 different types of rich pins (app, movie, recipe, product, place and article). Choose the type that is is most suitable for your website/blog and apply for that particular one. Click here to apply for rich pins. 
*Please note that it can take a little while to get approved for rich pins – but Pinterest is pretty good if you send them an email to see how your application is going.
6. Create 'pinnable' images
Ok so you've got your boards set up, you've started pinning great content… but now you want to maximise the number of pins that you get from your own website/blog. There's no big secret to it – you just need to make your images pinnable. The images that do best on Pinterest:
Are long and skinny (735 X 1102 are the ideal measurements);
Include a title;
Are often long collages (PicMonkey or Canva are great for creating pinnable collages);
Look great! If you're using your own photos, good quality ones will be repinned the most. If your images aren't that crash-hot, look into using stock images (if relevant);
7. Encourage people to pin directly from your site
You want as many people as possible pinning the images from your site onto Pinterest. This will increase your number of repins and visibility on Pinterest. Get people pinning by:
Making sure you have at least one 'pinnable' image or collage on each of your posts;
Having a 'Pin It' button easily accessible;
Use high quality images.
Some people like to have a long single image or collage at the top of their posts, whereas others prefer them at the bottom (as some collages can be pretty obtrusive to the post). As long as you have one somewhere on your post, it will come up as an option when people click your 'Pin It' button.
8. Make sure your images are correctly labelled
This is a BIG one!! It's also something that I realised way too late in the game… and as a result, I have a lot of very poorly named images floating around on Pinterest! So, Pinterest will automatically grab the 'alt-text' description from your image when someone pins it from your website. This means that when you're uploading your images to your website, you need to make sure that the 'alt-text' correctly describes your image.
For example, rather than leaving the image description as 'IMG1658', change it to 'The Best Ever Chocolate Layer Cake | Bake Play Smile'.
This one is a BIGGIE!!!
9. Make pinning your best friend
To build your followers on Pinterest, it's important to get into a habit of pinning regularly. Try and spend a couple of minutes a few times a day pinning. Don't pin for 30 minutes straight or you're going to drive your followers insane!! Pin here and there. Oh and one more thing… don't just pin your own content. Pinning 80% of others content to 20% of your own is a good rough guideline.
10. Think about whether you want to invest your time and money into Pinterest
If you've been using Pinterest for a while and you can see in your stats that it's making a difference to your blog traffic, it might be worthwhile looking into paid Pinterest tools, such as ViralTag, Tail Wind or Board Booster. I currently use both ViralTag and Board Booster and they have certainly helped me to boost my Pinterest traffic dramatically – you just have to weigh up whether you have the time to invest in setting them up and using them correctly (I'll post about both of these tools soon – I promise!!).
Finally (and yes, I know I'm going over the 10 points!), it's a great idea to join group boards as well as set up your own. Doing so will allow your pins to be seen by a much greater number of people, in turn increasing your repins and traffic. Win, win!!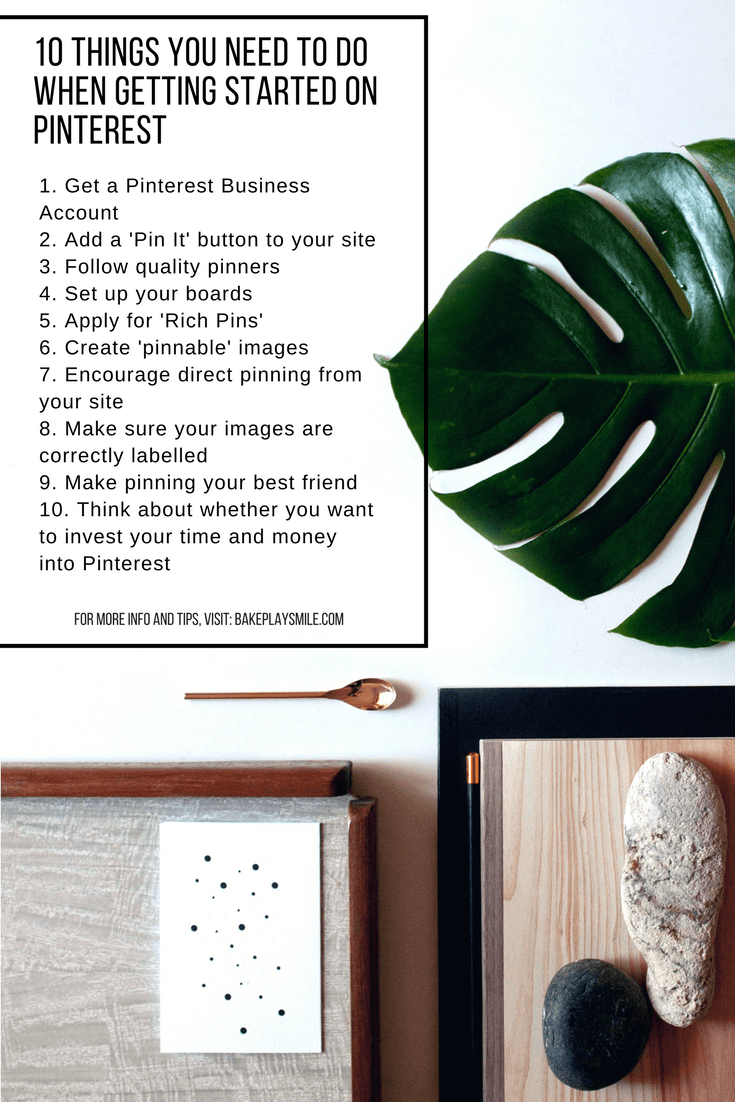 The '10 Things You Need to Do When Getting Started on Pinterest' will certainly help to increase your blog traffic regardless of whether you're a brand new blogger or have an established website. Happy pinning!