The most perfectly delicious and easy shortbread recipe… as well as 3 yummy variations, including chocolate chip shortbread, chocolate dipped shortbread with pistachios and cranberries, and chocolate covered shortbread with sugar ball decorations.
Whether or not to make shortbread at Christmas time, is not even a question in our house. Although to be honest, I think I actually love the process of making shortbread and cutting out cute little Christmassy shapes as much as I like eating it! As I'm sure you know by now, I am possibly the worlds most indecisive person. I am terrible at making decisions… particularly when it comes to food.
So when I decided to make shortbread, I ummed and ahhed about what type to make and in the end decided that it was easier to just make four different variations rather than having to decide on one (do you like the logic of a person with a serious lack of decision-making skills?). And it occurred to me that surely I'm not the only indecisive person in the world (hopefully not anyway!!) and some of you may also need four shortbread flavour variations too!
I made one batch of basic shortbread mixture and then divided it into four to make my different variations. If you're wanting to make gifts or if you have a hungry family, then you could just choose to make a batch of each. The instructions included below are for a full batch using that variation. And of course, there are Thermomix and conventional instructions included!
How to make our easy shortbread recipe
First of all we have our plain, simple and totally delicious basic shortbread recipe. This is the classic variation – just like your grandma would have made. It's oh-so-perfect. I used to teach with the most amazing shortbread maker ever. My shortbread is melt-in-your-mouth yumminess but hers was out of this world (I think it was her Scottish touch!). Simply follow the instructions in the recipe below to make this version.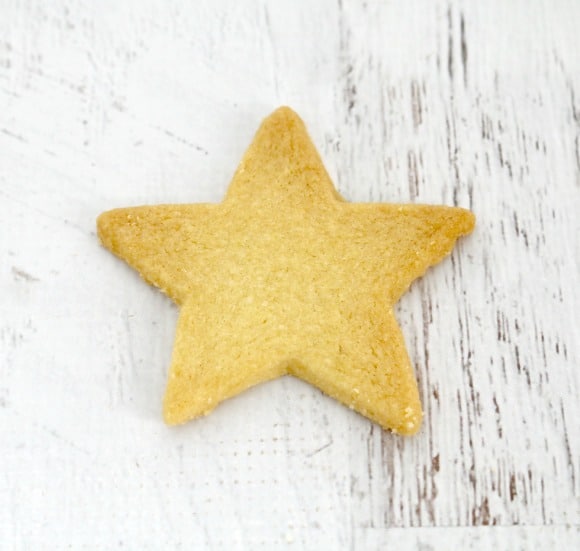 Variation 1: Chocolate Chip Shortbread Recipe
For those of us who are little chocolate addicts, then this version is perfect! Pop 1 cup of mini chocolate chips into your shortbread mixture before rolling out and cutting into shapes. Mmm chocolate and shortbread…. does it get any better?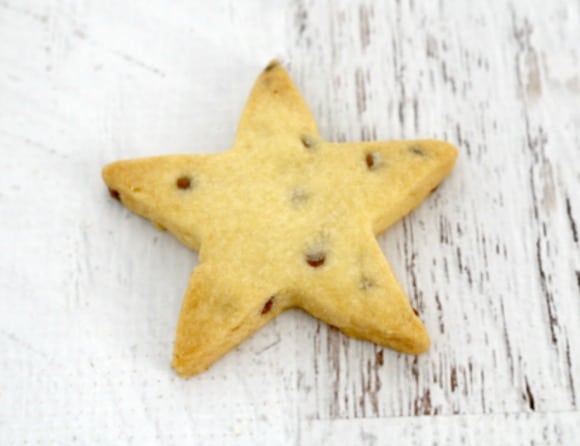 Variation 2: White Chocolate Dipped Shortbread with Crushed Pistachios and Cranberries
Hands-down my favourite Christmas flavour combination is white chocolate with pistachios and cranberries. To make this variation, simply cut your shortbread dough into long skinny bars before cooking. If you're a little bit crazy like me, you can very carefully neaten up the sides with a sharp knife when the shortbread comes out of the oven and is still warm (totally not necessary, but you get lovely and perfectly straight lines). When the shortbread has cooled, simply dip one end of each bar into 150g of melted chocolate and sprinkle over 50g crushed pistachios and 50g dried cranberries (I used my Thermomix for this, but a food processor would work just as well).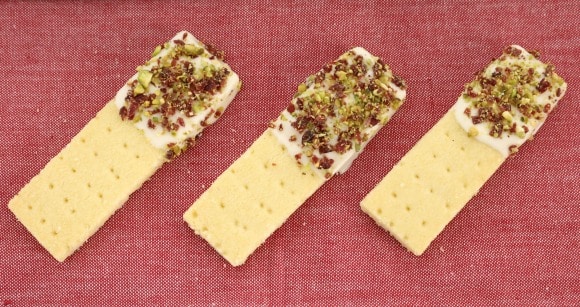 Variation 3: Chocolate Coated Shortbread with Sugar Ball Decorations
Simply make your shortbread according to the basic recipe and when cooled, use a knife to spread 200g of melted chocolate over the top, sides and bottoms of your shortbread cookies and decorate with sugar balls (or sprinkles!). Place onto baking paper to set. Please note: the chocolate will dry quickly so it's best to cover one biscuit at a time in the chocolate and decorate it immediately. If the melted chocolate starts to set while you're still using it, then simply pop it back into the microwave for a further 30 seconds on 50% power.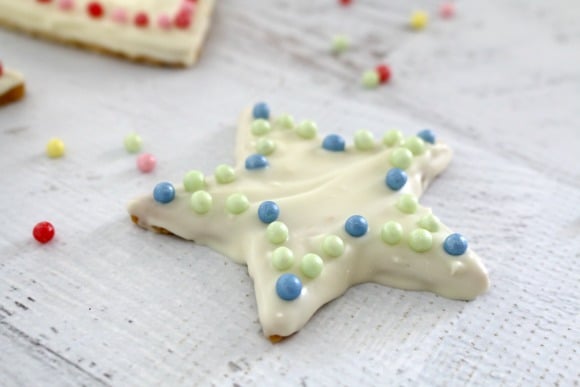 So there you have it… the indecisive girl's guide to making shortbread at Christmas time!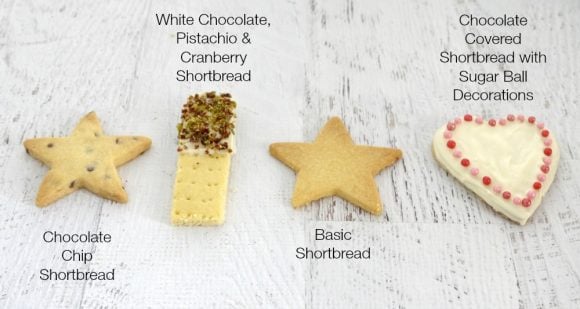 Which is your favourite variation of this easy shortbread recipe?
1 Super Easy Shortbread Recipe 4 Ways
The most perfectly delicious and easy shortbread recipe... as well as 3 yummy variations (which will all leave you drooling and coming back for more!).
Easy Shortbread Recipe – Thermomix Instructions (adapted from EDC book)
1. Preheat oven to 160 degrees celsius.
2. Line two trays with baking paper.
3. Place all ingredients into the mixing bowl and mix 10 seconds/Speed 6.
4. Knead for 20 seconds or until the mixture resembles breadcrumbs.
5. Place onto a lightly floured board and knead until smooth.
6. Using a lightly floured rolling pin, roll the dough into a 3mm thick disk.
7. Use a cookie cutter to cut into Christmas shapes or rounds (or cut into long thin bars if making variation 3).
8. Place onto the prepared trays and and bake in the oven for 20 minutes or until lightly golden (swap trays halfway through cooking).
9. Leave to cool completely on trays.
10. Dust with caster sugar (or ice according to above variations).