These easy and delicious Cheesy Oven Baked Arancini Balls are the perfect way to use up any leftover risotto you have in the fridge. Simple and oh-so addictive!
Oh how I love arancini balls… cheesy… yummy… the BEST!!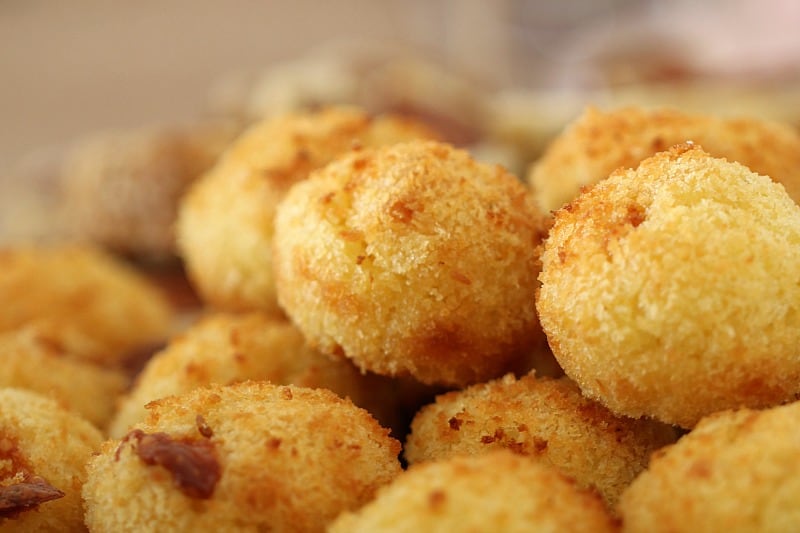 And these simple little balls are just totally delicious. Yep, these Cheesy Oven Baked Arancini Balls are sure to be a hit with the whole family.
Simply mix an egg and breadcrumbs to your cold leftover risotto, grab 2 tablespoon-sized scoops at a time, pop a small piece of mozzarella cheese in the centre and roll into a ball. Coat with panko crumbs and bake until golden and crispy. YUM!!!
Cheesy Oven Baked Arancini Balls
Ingredients
3

cups

leftover risotto

1

egg

1/4-1/2

cup

breadcrumbs

100

g

mozzarella cheese

cut into 1.5 cm pieces

2

cups

panko crumbs

4

tbs

olive oil

tomato relish

to serve
Instructions
Preheat oven to 180 degrees celsius.

Place leftover risotto into a bowl (it's best if it's been left overnight in the fridge), add the egg and breadcrumbs and mix to combine.

Add more breadcrumbs if your mixture is too soft (it needs to be quite hard so that the balls keep their shape).

Return the mixture to the fridge for 30 minutes.

Place the panko crumbs into a bowl and use your fingers to mix through the olive oil, so that the crumbs are completely coated.

Roll 2 tablespoon-sized scoops of risotto mixture, flatten out and place a cube of mozzarella cheese in the centre. Roll back into a ball to completely enclose the cheese.

Place into the bowl of panko crumbs are cover completely.

Place each of the balls into the hole of a greased mini-muffin tin.

Bake for 30 minutes or until golden.

Serve with tomato relish.
Recipe Notes
1. The best risotto to use for this recipe is one that has been refrigerated overnight. I tend to use leftover risotto from the previous nights dinner when I make arancini balls.
2. Using a mini muffin tin to bake the arancini will help them to keep their shape - however, as they are baked (and not fried) it's very hard to get a perfect circle. Try rolling your balls so that they are more of a standing cylinder shape - which will help them to maintain a circle shape when cooked.